This is an archived article and the information in the article may be outdated. Please look at the time stamp on the story to see when it was last updated.
A man was shot and critically injured by Ontario police after he and a female accomplice allegedly attempted to burglarize a business early Monday morning, according to officials.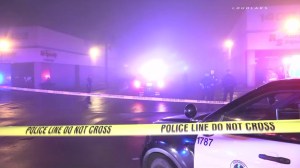 Police responded to a burglary alarm call at a shopping center in the 1600 block of South Grove Avenue (map) around 3:10 a.m., Ontario Police Department Sgt. Jeff Higbee said.
Upon arrival, the officers saw signs of forced entry and could hear people inside the building.
The two alleged burglars then attempted to flee.
"They managed to get into a stolen box truck that was parked to the rear. They tried to escape. They rammed the police officer's car that was in the back and the officer engaged in a shooting," Higbee said.
The male driver nearly ran over at least one officer, Higbee said.
Officers then shot the man twice, critically injuring him.
The female passenger was injured due to flying glass and was treated at a local hospital and detained by police.
No officers were injured.
Correction: An earlier version of this article incorrectly stated both suspects had been shot. The story has been updated with the correct information provided by police.