This is an archived article and the information in the article may be outdated. Please look at the time stamp on the story to see when it was last updated.
Animal officials were marveling at the survival of an opossum that was found in Riverside on Friday morning after being shot through the head and body with arrows from an apparent crossbow.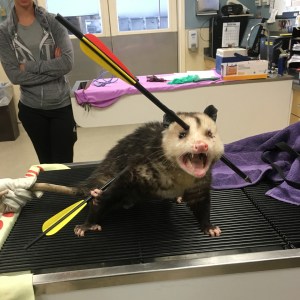 A caller reported the wounded marsupial's location to the Riverside County Department of Animal Services, prompting a response from one of the agency's officers, according to a news release.
The opossum was found near the intersection of Hole and Jones avenues, in the city's La Sierra neighborhood, the department's statement said.
The two projectiles, described in the news release as "crossbow arrows," had penetrated the marsupial on the side of its body and near its right eye.
"The animal was very alert and you could tell it was trying to remove the arrows itself," the department's Sgt. Cynthia Lee said in the statement.
"What a horrible thing to do to an animal," she added.
Animal control Officer Jennifer Selter rushed the opossum to the Western Riverside County/City Animal Shelter in Jurupa Valley, where it underwent surgery and survived, according to the news release.
Officials later released graphic photos that show the opossum at the shelter, before the arrows were removed.
"No animal, whether its a domesticated dog or cat, or a part of our wildlife, deserves to be treated in such a cruel manner," said the department's director, Robert Miller, who encouraged possible witnesses to come forward. "This is a sick act."
An animal cruelty investigation was underway. Anyone with information about the attack was asked to contact the Riverside County Department of Animal Services by phone at 951-358-7387 or online at rcdas.org.
We have launched cruelty investigation into this sick act; even more shocking: our vet did surgery; opossum survived pic.twitter.com/IEAmjvBszA

— RivCO animalSERVICES (@helpinRIVcoPETS) January 22, 2016