This is an archived article and the information in the article may be outdated. Please look at the time stamp on the story to see when it was last updated.
The Orange County District Attorney will not file charges against an off-duty Los Angeles police officer who fired his gun during a videotaped clash with several teenagers in Anaheim last year, officials announced Wednesday.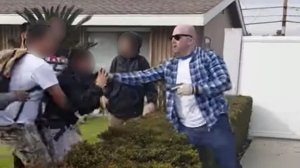 Though District Attorney Tony Rackauckas said the dispute was sparked when the boy pointed out "the inappropriateness" of a "very offensive and derogatory" comment made by Officer Kevin Ferguson, prosecutors determined Ferguson was not working under the color of authority at the time and could only be prosecuted as a private citizen.
Ferguson discharged his weapon during a confrontation with a 13-year-old boy that was captured on video in the area of Euclid Street and Palais Road in Anaheim on Feb. 21, 2017.
The incident resulted from what Anaheim police described as an "ongoing dispute" between the 33-year-old police officer and several juveniles who were walking across his lawn. As a group of four students crossed his yard while walking home from school shortly after 2:30 p.m. that afternoon, Ferguson launched a derogatory insult at a 13-year-old girl.
In determining charges, prosecutors sought to determine whether Ferguson had a right to detain the teenage boy who threatened Ferguson as he came to the girl's defense, and if Ferguson used excessive force in doing so.
Ferguson told investigators he tried to detain one of the juveniles after the teen said he was going to shoot him. While the teen maintains he actually said he was going to "sue him," officials determined it was reasonable to believe Ferguson heard "shoot" based on the way the boy speaks.
Because of that perceived threat, prosecutors ruled that Ferguson was within his right as a private citizen to place the boy under citizen's arrest for making threats.
Video of the incident, which garnered national attention, showed Ferguson holding the boy when several other juveniles got involved and approached the off-duty officer.
At one point, Ferguson was knocked to the ground and surrounded by a group of 14 juveniles, officials said. After a second boy tackled Ferguson and a third punched him, a fourth boy lunged at him while drawing a pencil from behind his ear in a manner prosecutors say it was reasonable to deem threatening.
That's when the video shows Ferguson get up and pull a gun from his waistband. He then fired a single shot into the ground, prompting the crowd to back away.
In all, the incident lasted about 14 minutes before Anaheim police arrived at the scene, prosecutors said.
Two boys, including the 13-year-old, were initially arrested but then released following the incident.
Ferguson, who was not arrested, was placed on administrative leave.
The Los Angeles Police Department is conducting its own internal investigation of the incident, Josh Rubenstein, a public information officer for the agency, said in a statement issued following OCDA's decision. Ferguson has been assigned to home pending the outcome of the probe, he said.
A civil lawsuit was also brought against Ferguson by the parents of one of the teenagers involved.