This is an archived article and the information in the article may be outdated. Please look at the time stamp on the story to see when it was last updated.
An increase in demand, and a decrease in donations, has left the Orange County Rescue Mission in dire need of food, officials reported Tuesday.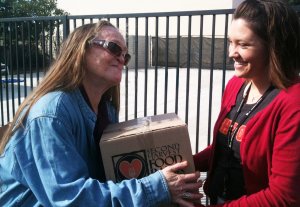 The Orange County Rescue Mission issued an urgent plea asking for the public's help in feeding 400 needy families for the next six months. To accomplish that task the organization needs 33,600 canned and boxed food items.
"At the holidays you can walk through our warehouse and there is an abundance of food. You come in February and things are starting to look a little low," Bryan Crain, the Orange County Rescue Mission's chief operating officer, told KTLA. "As we took stock and realize we need to continue to provide these food boxes and have seen an uptick in demand, we realized we really have an urgent need for food right now."
In order to continue feeding needy families as the organization has done for the past 20 years, the Orange County Rescue Mission is asking for donations of canned food items including meats, tuna, soup, vegetables, fruits, spaghetti sauce, beans and peanut butter.
Boxed rice, mashed potatoes, macaroni and cheese and dry pasta are also needed.
"We rely deeply on the support and generosity of the local community to ensure that these families and individuals do not go hungry," Jim Palmer, president of the Orange County Rescue Mission, said in a released statement. "By coming together as a community, we are confident that we can all play a vital role in ensuring these individuals not only survive, but overcome their circumstance."
Food donations can be dropped off at the Orange County Rescue Mission's Village of Hope, located at 1 Hope Drive in Tustin, Monday through Saturday between 8 a.m. and 5 p.m.
For more information and other donation options all 714-247-4303, or email info@rescuemission.org.