This is an archived article and the information in the article may be outdated. Please look at the time stamp on the story to see when it was last updated.
It's little comfort for Democrats who are devastated that Hillary Clinton lost the White House, but she managed to do something no Democrat has done since the Great Depression: win Orange County, a bastion of conservatism.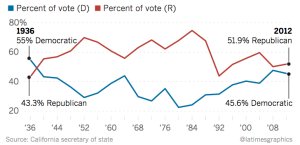 Clinton beat Donald Trump by nearly five percentage points, or 39,000 votes, in the county, which is a national symbol for the GOP — the home to Richard Nixon and the cradle of Ronald Reagan's conservatism.
The last time a Democrat won the county was 1936. For decades, it was a GOP stronghold, with Republican presidential candidates routinely beating their Democratic rivals by double-digit margins.
But in recent years, as the county has grown more diverse and less conservative, the gaps have narrowed. President Obama came the closest to winning Orange County, losing to Sen. John McCain by 2.5 percentage points in 2008.
Click here to read the full story on LATimes.com.