This is an archived article and the information in the article may be outdated. Please look at the time stamp on the story to see when it was last updated.
An Orange Police officer was seriously injured after being struck by a vehicle while responding to a call early Saturday and a woman suspected of driving under the influence has been arrested.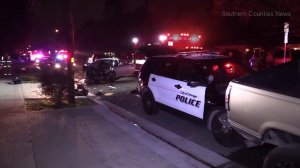 About 3 a.m. officers responded to a report of a vehicle blocking a roadway in the 500 block of North Cambridge Street.
One of the officers found a man asleep at the wheel of the truck and during the investigation, a car crashed into the patrol vehicle and the officer who was outside of his patrol unit, police said.
Video from the scene showed the patrol vehicle crashed into the back of the truck that officers were responding to.
The officer was taken to a hospital with major lacerations and broken bones. He was undergoing surgery Saturday morning but is in stable condition, police said.
The driver of the car was also injured and was taken to a hospital. She was eventually arrested on suspicion of felony driving under the influence, according to the California Highway Patrol.
The man in the truck was not injured.
Several other vehicles were damaged in the crash.
The CHP is investigating the incident. Anyone with information about the incident can call 714-567-6000.