This is an archived article and the information in the article may be outdated. Please look at the time stamp on the story to see when it was last updated.
A man who was killed in a multivehicle fiery crash in the city of Orange that resulted in the arrest of a suspected DUI driver was identified by the county coroner's office on Saturday morning.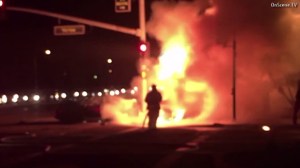 Steven Okamura, 50, died after the three-car collision, which occurred shortly before 8:45 p.m. Thursday at the intersection of Yorba Street and East Chapman Avenue.
Okamura's gray sedan was rear-ended by a black car, causing it to be pushed through the intersection on Chapman, according to the Orange Police Department.
First responders arrived at the scene to find his vehicle fully engulfed in flames.
Okamura, a resident of Orange, died at the scene, according to the Orange County coroner's office.
A sign reading, "We (heart) you Steve. You will forever be missed," was among the items placed at a makeshift memorial at the crash site the following day.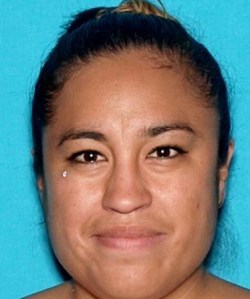 The driver of the black car, identified as 32-year-old Stephanie Marie De Rosas, was arrested on suspicion of gross vehicular manslaughter while intoxicated, according to police.
Her driver's license had been suspended due to reckless driving in 2014 and a failure to appear in 2012, Kathy Richards of the California Department of Motor Vehicles told KTLA on Friday.
De Rosas was hospitalized with serious injuries, according to police.
The driver of a third vehicle involved in the crash was also injured and transported to a hospital.