This is an archived article and the information in the article may be outdated. Please look at the time stamp on the story to see when it was last updated.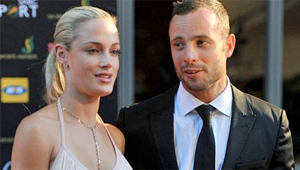 Olympian Oscar Pistorius and supermodel Reeva Steenkamp were the celebrity couple in South Africa.
And she was obviously excited about Valentine's Day tweeting "What do you have up your sleeve for your love tomorrow."
But she is now dead, and he is under arrest.
"At this stage we can confirm that a young woman age 30 did die at the scene of gunshot wounds. A 26 year old man has been arrested and has been charged with murder."
Police say Pistorius and Steenkamp were the only two people inside the home in Pretoria.
At the time of the shooting. Police found a pistol. Steenkamp was reportedly shot 4 times.
Last year Oscar Pistorius rose to fame, during the London Olympics.
The first double amputee to run in the Olympic games.
He failed to medal but he became a role model earning the moniker blade runner, and millions in endorsements.
Fame and fortune on par with his equally famous supermodel girlfriend.
A Nike ad in which Pretoruius proclaims "I am the bullet in the chamber" has now been removed from his website.
And a billboard in Pretoria featuring Pretoruius was taken down after his arrest.
Pretorius reportedly told police he mistook Steenkamp for an intruder.
— Glen Walker, KTLA News