This is an archived article and the information in the article may be outdated. Please look at the time stamp on the story to see when it was last updated.

The red carpet, the stars, the fashion, the acceptance speeches. It's all going down at the 90th Academy Awards. Here's what you need to know about the ceremony.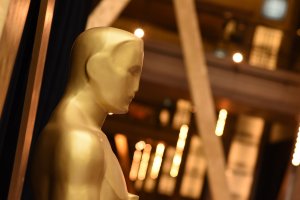 Who's hosting the Academy Awards?
Late-night host Jimmy Kimmel will (hopefully) bring the funny again, just as he did at last year's ceremony.
Given his more politically-charged monologues recently on "Jimmy Kimmel Live," there are sure to be some Trump jokes — and disses.
What's different about the Oscars this year?
The action kicks off a half hour earlier this year, starting at 8 p.m. EST/5 p.m. PST on ABC.
Viewers will just have to wait and see if that extra time will translate into longer speeches by the winners.
What will people be talking about on the Oscars red carpet?
That could be tricky this year because E! host Ryan Seacrest is set to have his usual red carpet hosting duties.
Seacrest has been defending himself against an allegation of sexual misconduct. Though Seacrest was cleared of any wrongdoing by the network after a third-party investigation, strong support for the #MeToo movement and the Time's Up campaign might make for some awkward encounters.
Related: Ryan Seacrest's Oscar night could prove complicated
Who's presenting the Oscars?
The list is pretty impressive and includes Sandra Bullock, Emily Blunt, Dave Chappelle, Jodie Foster, Eiza González, Nicole Kidman, Matthew McConaughey and Christopher Walken, among others.
Oscar-winner Lupita N'yongo, one of the stars of what is arguably the biggest film currently in theaters, "Black Panther," will also present.
Who will win the Oscars?
That is the question of the evening.
While there are some frontrunners in the acting categories, the best picture Oscar is up for grabs.
Related: Oscar nominations 2018 – The full list
One thing we do know is that safeguards have now been put in place to ensure there won't be another envelope mix-up.
"La La Land" was mistakenly named best picture last year, when the winner was in fact "Moonlight."
Related: Remembering the 'Moonlight' and 'La La Land' Oscars fiasco
Where to watch the Academy Awards?
ABC will begin its live coverage of the red carpet at 6:30 p.m. EST, available on broadcast platforms and live-streaming on ABC.com or the ABC app.
How to avoid street closures in Hollywood?
The ceremony will take place at the Dolby Theatre in Hollywood.  According to a map on the L.A. County Metropolitan Transportation Authority website, Hollywood Boulevard is closed between La Brea Avenue and Cahuenga Boulevard. Highland Avenue and Orange Drive between Sunset Boulevard and Franklin Avenue are also inaccessible to the public.