This is an archived article and the information in the article may be outdated. Please look at the time stamp on the story to see when it was last updated.
A trio of Los Angeles city firefighters boosted their combined earnings in 2016 to $1.36 million, with $974,779 of it coming from overtime pay, according to a new survey.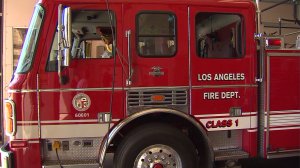 Salary data from TransparentCalifornia.com notes fire Capt. Charles Ferrari received $334,655 in overtime, with total earnings of $469,198.
Fire Capt. James Vlach received $332,583 in overtime, with total earnings of $469,158, and Firefighter Donn Thompson received $307,542 in overtime, with total earnings of $424,913.
The three Fire Department employees received the largest statewide overtime payouts of the more than 550,000 workers surveyed in 2016.
Ferrari, Vlach and Thompson also topped the state's list in 2015, when more than 2.4 million government workers were surveyed.
Over the past three years, firefighter Thompson has boosted his total earnings to $1,229,504, according to the survey.
The number of workers earning at least $100,000 in overtime pay has increased 760 percent at the Fire Department over the past 5 years, rising from 51 in 2012 to an all-time high of 439 last year.
The $197 million in overtime pay accounted for 31 percent of the Fire Department's total budget for 2016, the survey stated.
Asked about why so much was spent on overtime last year, LAFD Chief Ralph Terrazas told KTLA that vacancies in the department have been a critical issue.
"We hadn't hired in over five years, so when you have a lot of vacancies, there's a lot of overtime availability," Terrazas said.
Currently, there are 244 unfilled firefighting positions.
"When I started tracking this, when I was appointed, we were close to 400," the chief said.
Another key issue is staffing, Terrazas explained. For instance, any firefighter who calls in sick must be replaced to meet public safety standards, he said.
The chief added that it was possible Ferrari, Vlach and Thompson took the overtime because nobody else wanted it and they worked specialized positions.
"We do have vacancies in every rank and we're solving that problem by hiring overtime to fill the spots," Terrazas said.
Los Angeles Fire Commissioner Jimmy Hara told KTLA the Fire Department is hiring more full-time staff in hopes of reducing some of the overtime costs.
"Now that more firefighters are being recruited and coming on board, I think hopefully this will be less of a problem in the future," Hara said.
Transparent California is a project of the Las Vegas-based Nevada Policy Research Institute, a nonprofit think tank funded by conservative groups. The institute "promotes policy ideas consistent with the principles of limited government, individual liberty and free markets," according to its website. https://npri.org/.