This is an archived article and the information in the article may be outdated. Please look at the time stamp on the story to see when it was last updated.
BRENTWOOD, Calif. (KTLA) — Traffic was snarled on the 405 Freeway in West L.A. on Friday morning after a big rig and a second vehicle collided, spilling diesel fuel across the roadway.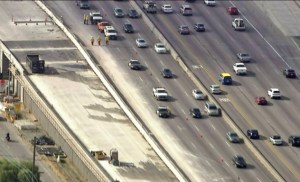 The collision happened just after 6 a.m. on the northbound 405 between Waterford Street and Sepulveda Boulevard.
More than 700 gallons of diesel fuel spilled across about two miles of highway, according to the California Highway Patrol.
The three right lanes were blocked at Montana Avenue, backing up traffic for miles.
All lanes were reopened as of about 9:45 a.m.
The connector from the I-10 West to the 405 North was also shut down, as were the Santa Monica Boulevard onramps and Wilshire Boulevard onramps and offramps.
Traffic was heavy on surface streets in the area, including Sepulveda Boulevard and Beverly Glen.