This is an archived article and the information in the article may be outdated. Please look at the time stamp on the story to see when it was last updated.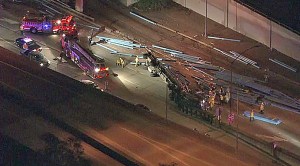 LOS ANGELES — An overturned semi truck carrying a load of pipes overturned on the 10 freeway Monday backing up traffic for miles.
The crash happened just after 7 p.m. on the 10 west connector to the 101 north near the Mission off-ramp.
Several other vehicles were also involved in the crash which left the connector road littered with dozens of large pipes.
The driver of the truck had to be extricated and was transported to the hospital in critical condition.
California Highway Patrol officers are diverting traffic onto the 5 Freeway.
No word on when the road may be reopened.