This is an archived article and the information in the article may be outdated. Please look at the time stamp on the story to see when it was last updated.
A box truck carrying a load of fruit overturned on Monday afternoon on the 91 Freeway in Fullerton, resulting in the closure of three eastbound lanes for about two hours, the California Highway Patrol reported.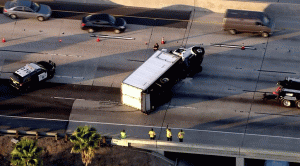 The crash happened about 3:45 p.m. at the Brookhurst Street onramp.
At one point traffic was backed up to Knott Avenue, officials reported.
As of 6:30 p.m., one eastbound lane still remained closed.
A CHP dispatcher initially described the vehicle as a big rig, but an officer later clarified that it was a box truck carrying fruit.
No injuries were reported in the crash.
It's not clear why the vehicle crashed, and the driver of the truck was not apprehended, according to the CHP Officer Graham.
Correction: An earlier version of this story incorrectly stated that the driver was apprehended by CHP. The story has been updated with correct information.