This is an archived article and the information in the article may be outdated. Please look at the time stamp on the story to see when it was last updated.
A 13-year-old dachshund left outside an animal shelter with a note asking that he be put to sleep because his elderly owners could no longer afford to care for him was expected to be reunited with the couple soon.
The dog, named "Harley" by rescuers, was found tied to a basket outside the Baldwin Park Animal Shelter on March 6, according to Toby Wisneski, CEO and founder of Leave No Paws Behind.
Attached to Harley was a note explaining that he had gotten sick, was vomiting and had bloody stools.
"We are both seniors, sick with no money. We cannot pay for vet bills, or to put him to sleep. He has never been away from us in all those years, he cannot function without us, please put him to sleep," stated the note, which ended without identifying the owners.
Wisneski received a call from the shelter and took the dog in knowing if she didn't he would be put to sleep.
After receiving medical care at the East Valley Veterinary Clinic, doctor's told Wisneski that Harley was going to be OK and had a couple of years left in him.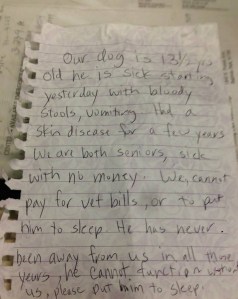 Determined to reunite Harley with his owners, Wisneski tracked down the couple and found out Harley's real name is Otto Wolfgang Maximus.
"We just are living week to week," one of the owners, who wished to remain anonymous, said in a phone interview. "We can't even go to the hospital to get our treatment."
The couple was informed that Leave No Paws Behind — described on their Facebook page as a nonprofit, foster-based rescue — would cover Otto's healthcare and food costs for the rest of his life.
"We thought he was dead, but he lives," said the owner on the phone. "He's being well taken care of and, boy, we're just so extremely grateful."
The couple was expected to be reunited with Otto when they return to the area on March 28.