This is an archived article and the information in the article may be outdated. Please look at the time stamp on the story to see when it was last updated.
[Update posted at 6:46 a.m. PT on July 15, 2015]
A day after an Oxnard family expressed concern for a mother of two who had not been heard from in more than a week, the woman was located in Oregon and "expressed deep regret for all the worry she caused," police said.
[Original story, updated at 11:23 p.m. on July 14, 2015]
An Oxnard family was on Tuesday desperately trying to locate their adult daughter, who vanished on the way to work and hasn't been seen or heard from in more than a week.
Dawn VadBunker, a 39-year-old mother of two, was headed to work in Santa Monica on July 3 where she was supposed to meet up with her boss, the woman's parents told KTLA.
Laura and David VadBunker said they had expected their daughter to return home the following day to help them with a Fourth of July holiday party, which she had been "excited" about.
But on that Saturday, she suddenly texted her mother to let them know she would not be home for another two days.
"I get a text that says, 'Mom, I'm staying a couple more days,'" Laura VadBunker said. "I thought, 'OK, all right.' So I kept thinking that … Monday would be her couple days, she would be home. That didn't happen."
Several more days went by before her deeply concerned parents contacted the Oxnard Police Department to let them know their daughter was missing.
By that point, the woman's mother said, they hadn't heard from their daughter and she wasn't answering her cellphone, which went straight to voicemail when they attempted to call her.
Laura VadBunker added that her daughter hasn't answered any other relative or friend's phone calls or text messages since July 4. She also hasn't been active on any social media accounts.
Dawn VadBunker was in the midst of getting her marriage annulled, her parents said. They have been in contact with her husband and stressed that they did not believe he had anything to do with their daughter's disappearance.
For the past six to seven years, the missing mother worked as a personal assistant and property manager for her boss, a woman who owned a number of properties in the Southern California area, according to the VadBunkers.
Laura VadBunker told KTLA she had tried multiple times — unsuccessfully — to get in contact with her daughter's boss. She said the pair were also friends, and it was extremely unusual that she couldn't reach her either, despite the fact that the boss had multiple cellphones.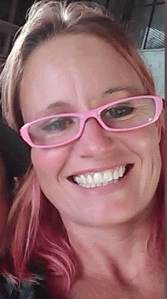 A man called police claiming to have seen VadBunker with another woman.
"She's potentially with that female," said Oxnard police Sgt. Sharon Giles. "We located the neighbors of that female and they have not seen that female either."
Giles said the VadBunkers reported their daughter missing on July 10 at 1 p.m.
She had few other details about the case, which was still in the preliminary stages of the investigation.
Oxnard detectives were planning to travel to Santa Monica on Wednesday to follow up on new leads, the sergeant said.
Prior to the woman's disappearance, the VadBunkers stated that their daughter had been in good spirits, and they didn't notice anything wrong. David VadBunker described her as being an energetic and positive woman who "loves life."
The family is trying to remain optimistic under the circumstances, but they remain extremely worried.
"Try to address being proactive, and not sit and dwell on the worst-case scenarios, because that's not proactive. But scared to death of the worst-case scenarios," David VadBunker said.
Dawn VadBunker was last seen driving a 2007 silver Dodge Nitro with a license plate No. of 5YGB296.
More Video;