This is an archived article and the information in the article may be outdated. Please look at the time stamp on the story to see when it was last updated.
The U.S. Secret Service has taken over the investigation of a gift-wrapped package of manure sent to the Bel-Air home of U.S. Treasury Secretary Steve Mnuchin.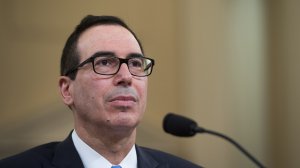 The package was apparently intended as a protest.
It's not clear that any local laws were violated even though the package provoked an extensive law-enforcement response early Saturday evening, said Officer Ray Barron, of the West Los Angeles Division of the L.A. Police Dept.
"There was nothing other than insulting comments," said Barron, describing a note that accompanied the box. "There was nothing dangerous in the box — no controlled substances. No threats were made."
Read the full story on LATimes.com.