This is an archived article and the information in the article may be outdated. Please look at the time stamp on the story to see when it was last updated.
Two men who were arrested after leading authorities on a wild two-hour pursuit through much of the L.A. area following a burglary were charged Monday.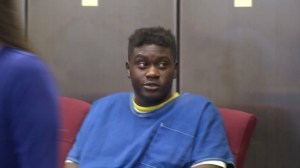 Herschel Reynolds, 20, and Isaiah Dewayne Young, 19, were charged with four counts each in connection with the Cerritos burglary and ensuing chase that occurred April 7: two counts of hit-and-run driving resulting in property damage, one count each of first-degree residential burglary and fleeing a pursuing peace officer's motor vehicle while driving recklessly.
Young entered a not guilty plea in court in Bellflower Monday afternoon. Reynolds was set to be arraigned May 10, according to a Los Angeles County District Attorney's Office news release.
The chase began when a woman drove up to her Cerritos home and saw a car she didn't recognize in her driveway. When she honked, the vehicle sped away.
She went inside and found her back door smashed and property missing, the DA's news release said.
A call to authorities with a description of the car — a dark-blue Ford Mustang convertible — prompted a successful search. But as the vehicle sped through traffic, weaving in and out of lanes and colliding at least once with another car, police backed off repeatedly.
In Hollywood, the Mustang did "donuts" on the Hollywood Boulevard overpass above the 101 Freeway. At one point, the drive flashed a peace sign at a passing KTLA news van.
Eventually, the vehicle made its way to South L.A., where bystanders emerged and seemed to welcome and congratulate the pair in the car. When Los Angeles County Sheriff's Deputies arrived several moments later, the driver and passenger surrendered without incident.
The chase was carried live by local television news stations, including KTLA, transfixing Angelenos.
If convicted as charged, each man faces up to six years and eight months in state prison.
Young is due back in court in Norwalk April 18.