This is an archived article and the information in the article may be outdated. Please look at the time stamp on the story to see when it was last updated.
Authorities were seeking the public's help Wednesday in finding a man and a woman accused of taking $45,000 from a 75-year-old widow in North Hollywood.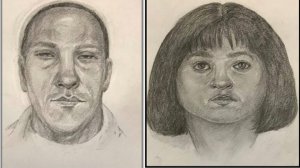 A woman approached the widow outside a 99 Cents Only Store on Laurel Canyon Boulevard the morning of Jan. 23, Los Angeles police Det. Joseph Hampton said.
She showed the victim a bag filled with appeared to be hundreds of thousands of dollars she claimed to have received from a settlement after her brother died during 9/11, the detective said. The woman allegedly said she was going back to her home country and couldn't bring the money, then asked the victim to donate it to a local church.
Hampton said that's when a man pretending to be a stranger appeared, telling the victim that she needed to show some "good faith" money to prove her trustworthiness.
The detective said the pair followed the victim home, and it took them five hours to convince her to follow their instructions.
The victim — who wished to remain anonymous — said she brought out cash from her home and rode with the pair to  two banks, where she withdrew more money.
She said after she placed a total of $45,000 in the vehicle, the pair drove off.
Hampton called the scheme a "sophisticated scam."
The victim said she was particularly vulnerable because her sister recently passed away.
"I tried to help, and I'm in this situation," she said. "Now, I won't help people. I feel angry and I hope they get caught."
Authorities described the man as light-skinned, 60 to 65 years old, about 5 feet 6 inches tall and weighing around 140 pounds.
They described his female partner as light-skinned, 30 to 35 years old, about 5 feet tall and weighing around 125 pounds. She spoke with an accent, police said.
Both appeared black or Hispanic, according to authorities. Their vehicle was possibly a dark blue, 2016 to 2018 Nissan or Toyota Camry.
Anyone with information can call detectives at 818-754-8377. Those who wish to remain anonymous can call 1-800-222-8477. Tipsters can also text a message beginning with "LAPD" to 274637.