This is an archived article and the information in the article may be outdated. Please look at the time stamp on the story to see when it was last updated.
Three young children whose mother was found dead on a Gorman-area road were located safe Wednesday afternoon after they were kidnapped, but the two people suspected of taking the kids have a fourth child with them and remain on the run, authorities said.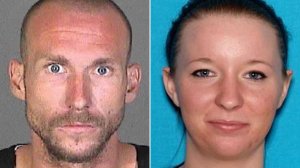 Joshua Robertson, 27, and Brittany Humphrey, 22, were last seen fleeing California with Kimberly Harvill's three children, who were found to be safe at a motel in Albuquerque, New Mexico, after a good Samaritan contacted local police.
Robertson and Humphrey had left the three young children — Joslynn Watkins, 2; Brayden Watkins, 3; and Rylee Watkins, 5 — in the good Samaritan's care. When the couple didn't return, he became suspicious and called police.
The children are OK, but Los Angeles County Sheriff's Department remains concerned about a 1 1/2-year-old girl who is still with Robertson and Humphrey. That child is not related to the other children; she had been left in Robertson's care, according to sheriff's Lt. Joe Mendoza.
Humphrey is Harvill's sister and an acquaintance of Robertson, Mendoza said during a news conference Wednesday morning.
The three adults and the children had all been staying at a motel together in the Lebec area before Harvill was found dead along the side of remote Gorman Post Road on Aug. 14. They are all from Fresno, Mendoza said.
Authorities do not know why the couple took the children, or if they were involved in Harvill's death, Mendoza said Wednesday afternoon.
"We're looking at a lot of angles," the lieutenant said. "We really would like to just speak with them once they're in custody."
The mother of the toddler who is still with the couple has been alerted, Mendoza said. The child is considered an at-risk missing person.
Before they were located, the three other children's godfather told KTLA that the family just wants the children returned safely.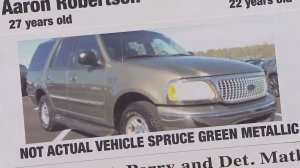 "The kids are what's most important thing …  to to all of us, the family, myself. We just want our godchildren, the grandparents want their grandchild home," Tso Yanez said. "They've got a life ahead of them, and they don't deserve to live it this way."
The Sheriff's Department is coordinating with the Department of Children and Family Services to have the children safely returned to California, authorities said.
Investigators were still trying to determine when the pair took the kids, according to Mendoza.
"We believe that they took the children sometime either before the murder or after the murder," he said.
A warrant has been issued for their arrest, a sheriff's news release stated. The warrant is for the kidnapping, though Mendoza said the pair are also wanted for questioning in connection with the homicide.
He described them as "persons of interest."
"Due to the fact that immediately after the murder – or sometime shortly after – it is suspicious that they did not come forward to law enforcement, and instead they fled," Mendoza said.
Harvill's body was found in a desolate area by a motorist in some brush. She suffered trauma to the head and was pronounced dead at the scene. A handgun was used in the killing, Mendoza said.
Officials could not identify her initially, but later determined who she was from her unique tattoos, according to the Sheriff's Department.
Robertson has a criminal history related to firearms, narcotics and property crimes and is believed to be on parole, Mendoza said.
He and Humphrey are believed to be driving a "spruce green metallic" 1999 Ford Expedition that may have the California license plate No. 7BEK024, or paper plates.
Authorities think they area headed east, north or south from Albuquerque, and they are searching along Interstates 25 and 40.
Between the two, they have relatives in Nebraska, and ties to Kansas, Louisiana and Mississippi, according to Mendoza.
The suspects are considered "armed and dangerous," the release stated. Anyone who sees the pair should not approach them and should call local law enforcement or 911.
Those with information about the case have been asked to call the Sheriff's Department's Homicide Bureau at 323-890-5500. Tipsters who wish to remain anonymous can call Crime Stoppers at 800-222-8477.