This is an archived article and the information in the article may be outdated. Please look at the time stamp on the story to see when it was last updated.
Palestinian rights groups rallied in Los Angeles Sunday afternoon against President Trump's announcement that the U.S. recognizes Jerusalem as the capital of Israel.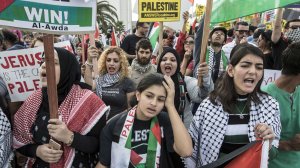 About 200 protesters gathered peacefully outside the federal building on Wilshire Boulevard near UCLA, holding signs that proclaimed "Jerusalem is the capital of Palestine." They chanted, "Free, free Palestine, occupation is a crime," and, "No wall, no ban, no embassy on stolen land."
"Jerusalem is, and will remain a Palestinian city," said Amani Barakat, national chair of Al-Awda, The Palestine Right to Return, who organized the rally. "A city of inclusion and coexistence rather than exclusion and bigotry."
A group of about 30 counter-protesters gathered across the street holding "Stand with Israel" signs and yelling, "Stand with God's people."
Read the full story at LATimes.com.