This is an archived article and the information in the article may be outdated. Please look at the time stamp on the story to see when it was last updated.
Six-year-old Joseph Bonner cried frequently in school. He struggled through tears to write his ABCs. He broke down on the playground. He wept when his pencil broke.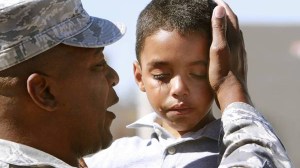 He could barely get through a school day, his mother and teacher said. The typically calm, quiet boy missed his father.
For the last six months, Air Force Master Sgt. James Bonner has been in Guantanamo Bay, Cuba, on an unexpected deployment, his first in nine years.
Joseph couldn't quite understand why his father had left.
Click here to read the full story on LATimes.com.