This is an archived article and the information in the article may be outdated. Please look at the time stamp on the story to see when it was last updated.
A girl who was the victim of a car-to-car shooting in Palmdale remains on life support Friday, officials said.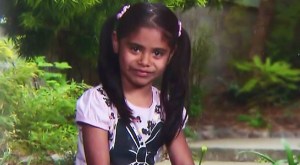 Desirae Macias, 7, was hospitalized in "extremely critical condition" early Wednesday after being wounded in the incident, authorities said.
Desirae's family planned to remove her from life support once relatives had the opportunity to say goodbye, her aunt, Alicia Galvin, said Wednesday.
"They're going to disconnect her; we're just waiting for the grandma to get there," Galvin said.
KTLA incorrectly reported early Friday that Desirae had been removed from life support and had died.
But midday Friday, coroner's officials said that she was in fact still on life support.
"She is still on the ventilator. She is brain dead. She is not going to recover," Lt. Larry Dietz told KTLA just after noon Friday. "It's between the doctor and the family as to when they disconnect the life support."
Three men were arrested in connection with the shooting, which occurred following an argument between the suspects and the boyfriend of Desirae's mother at a gas station in Palmdale.
Correction: An earlier version of this story incorrectly reported that Desirae Macias was removed from life support and had died late Thursday evening, but a coroner's official said Desirae remained on life support as of midday Friday. Also, an earlier version of this story misspelled Desirae Macias's first name. The story has been updated to reflect the changes.