This is an archived article and the information in the article may be outdated. Please look at the time stamp on the story to see when it was last updated.
While a 3-year-old Palmdale boy returned home Monday after being wounded by a bullet that tore through his parents' bedroom the previous night, authorities were trying to determine who was responsible for the gunfire.
The toddler was asleep in his crib at a home in the 38000 block of 65th Street East (map) shortly before 10 p.m. Sunday when he was hit by gunfire in the lower back, a news release from the Los Angeles County Sheriff's Department stated.
The bullet came from outside the mobile home and went through a wall before striking the boy, identified by his family at Dylan.
"Fortunately … he was wrapped in a heavy blanket," the Sheriff's Department stated in a news release. "The impact of the bullet only caused a large bruise and small burn on the victim, but did not penetrate his body."
The boy was taken to an area hospital for evaluation and treatment.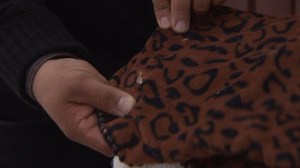 Another bullet was later found lodged in his parents' mattress.
"He was wrapped pretty good with a couple of blankets that helped stop the child from being seriously hurt or the bullet penetrating him," Sheriff's Department Detective Nelson Rios told The Washington Post.
The boy's mother said her son's survival was a miracle, and she believed the blanket saved Dylan's life. Doctors said Dylan would be fine, mother Maribel Hernandez said.
"We believed in God and I know God protects," Hernandez said. "I'm happy because I have my baby with me … I feel very special."
Friend Mario Morones said the family's strong religious faith is helping them through the incident.
"It is mind-blowing for them," Morones said. "We thank the Lord it didn't turn out worse."
A neighbor who lived behind the victim's residence said he was in shock.
"I moved from L.A. to Palmdale to have a better quality of life," Sergio Villegas said. "Now we hear this here again, so it's kind of depressing."
Villegas added he was "pretty sure" the family had been shot at randomly, and noted there were no gangs or graffiti in the neighborhood.
The Sheriff's Department also said that the family had no suspected gang ties.
It was not immediately known whether one or multiple people were involved in the incident, according to the release. No description of the shooter or shooters was available.
Witnesses told the family that two people were seen running through the parking lot with a car chasing them.
Anyone with information about the shooting was asked to call the Sheriff Department's Palmdale Station at 661-272-2400.
Those who prefer to remain anonymous were asked to leave a tip by calling Crime Stoppers at 800-222-8477.
More Video: