This is an archived article and the information in the article may be outdated. Please look at the time stamp on the story to see when it was last updated.
A Palos Verdes man has been charged in connection with the assault of a Mets fan outside Dodger Stadium in October, the Los Angeles County District Attorney's Office announced on Thursday, one week after an arrest was made in the case.
Michael Rae Papayans, 27, was accused of punching a 50-year-old man in the head in the stadium parking lot on Oct. 9, following Game 1 of the National League Division Series between the L.A. Dodgers and the New York Mets, the DA's office said in a news release.
The incident occurred about 10:30 p.m. in Lot L, the Los Angeles Police Department said at the time.
It began when a woman, identified as the suspect's mother, confronted four people clad in Mets gear who were headed to their car, according to prosecutors. She allegedly yelled epithets at the group of Mets fans before her son joined in the argument.
The verbal dispute turned violent when Papayans allegedly punched a 50-year-old man in the head, knocking him to the ground and forcing him to hit his head against the pavement, the release stated. The man suffered serious head injuries as a result and was initially hospitalized in critical condition.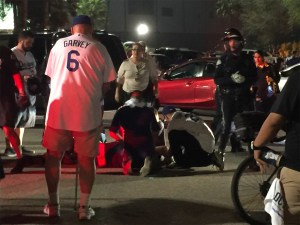 One eyewitness, Sean Gould, told the told the Los Angeles Times shortly after the assault that it looked like a fight was breaking up when one man punched another.
"The guy who threw the punch came out of nowhere," Gould told the newspaper, adding he could hear the sound of the victim's skull hitting the concrete.
Another witness, Maria Cerecer, said the fall cracked the fan's skull open.
"It was pretty bad because there was a lot of blood on the floor. … We had free rally towels and they actually had the towels on his head," Cerecer told KTLA back in October.
A woman then came up and began kicking the victim on the ground before the pair fled, Gould said.
Papayans was arrested on Feb. 11 and bailed out of jail the following day, according to inmate records.
He has been charged by the DA's office with one felony count of assault by means likely to produce great bodily injury with an allegation that he caused great bodily injury.
Papayans faces up to seven years in state prison if convicted as charged.
His arraignment is scheduled for March 11.
The defendant's mother faced possible misdemeanor charges in the case as well for allegedly kicking the victim in the back as he lay unconscious on the ground, prosecutors said.
The Los Angeles Police Department's Robbery-Homicide Division continues to investigate the case.