This is an archived article and the information in the article may be outdated. Please look at the time stamp on the story to see when it was last updated.
Three Mexican men were arrested in connection with the bust of a panga boat that was carrying 5,700 pounds of marijuana off the Channel Islands, the U.S. Coast Guard announced Monday.
The three men were taken into custody early Sunday on remote, uninhabited San Miguel Island, about 65 miles west of Ventura (map), according to a Coast Guard news release. They were expected to appear in federal court Monday to face drug trafficking charges.
A good Samaritan initially spotted the boat on the island, which is about 15 square miles and part of Channel Islands National Park, and reported the sighting to law enforcement in Long Beach, according to the Coast Guard. A federal affidavit said the boat was spotted Saturday afternoon by an off-duty California Department of Fish and Wildlife officer.
A Black Hawk helicopter operated by the U.S. Customs and Border Protection Office of Air and Marine launched and its crew spotted the boat on the northwest end of the island. The chopper landed and the three men who were allegedly piloting the panga were taken into custody.
The Coast Guard Cutter Halibut arrived and the three Mexican nationals and 5,700 pounds of marijuana were transferred on board, according to the release.
The pot was estimated to have a street value of nearly $3 million, the Coast Guard said.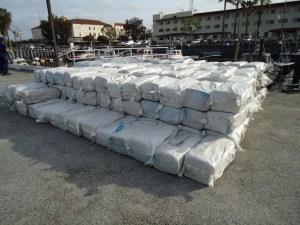 The 40-foot boat was towed back to Coast Guard Base Los Angeles-Long Beach, where the suspects and marijuana were turned over to Homeland Security Investigations special agents.
The men who were arrested were identified in a federal court affidavit written by Drug Enforcement Administration Special Agent Michael Klinge as: Alfonso Ramirez-Lopez, 40; Marco Antonio Montes-Lopez, 46; and Daniel Francisco Garcia-Sanchez, 32.
They were set to be charged with possession with intent to distribute marijuana on board a vessel, the affidavit stated.
They told federal agents they had been out to sea for three days and were set to be paid $3,000 to bring the approximately 224 marijuana bales to the U.S., according to Klinge. They were from Sinaloa and had launched into the Pacific Ocean about an hour south of Ensenada, landing when they were nearly out of fuel, Ramirez told agents.
The bales, which totaled about 5,771 pounds, tested positive for the presence of marijuana, Klinge wrote.
The case was being prosecuted by the U.S. Attorney's Office for the Central District of California.
During an appearance in federal court in downtown Los Angeles Monday, the men were ordered held without bail, a spokesman for the U.S. Attorney's Office said. They were set to return to court April 6.