This is an archived article and the information in the article may be outdated. Please look at the time stamp on the story to see when it was last updated.
A man nicknamed the "panty bandit" was arrested early Thursday while trying to burglarizing a lingerie store in Woodland Hills, and Los Angeles Police officials believe he may be responsible for more than a dozen other incidents.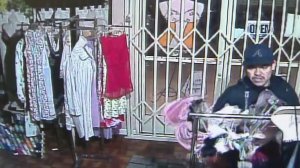 The incident was reported at a store named Excitement, at 19841 Ventura Blvd.
Wade Kubat, who works at Excitement said the incident was caught on surveillance video as the suspect tried to pry the door open. The activity triggered an alarm that the manager had previously set up after previously being burglarized.
The manager called police, a sergeant responded to the area and detained Carlos Oliva, 35, outside the store.
Police believe he had burglarized the store in August and that he may be connected to 18 other incidents in the San Fernando Valley since January, Detective Merrill Dunn said.
Oliva allegedly entered stores in various ways, sometimes kicking through doors. Once inside, he loaded up on lingerie and sometimes adult videos, Dunn said.
Police believe Oliva stole between $10,000 and $20,000 worth of merchandise and likely resold it.
He is being held on $200,000 bail and is expected in court Monday.