This is an archived article and the information in the article may be outdated. Please look at the time stamp on the story to see when it was last updated.
Firefighters managed to control the flames of a structure fire at a recycling facility in downtown Los Angeles Thursday afternoon and one firefighter suffered a non-threatening injury after battling the blaze, according to the Los Angeles Fire Department.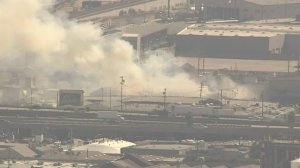 The fire was reported by about 1:18 p.m. at Angelus Western Paper Fibers Inc. in the 2400 block of East Porter Street, authorities said. An alert from fire officials described "heavy fire showing at [a] paper recycling facility."
At about 3:15 p.m., another fire alert reported that the 89 firefighters battling the blaze had managed to "control all active flame" within two hours. But they will stay at the scene into the early morning hours to make sure it stays completely extinguished, the alert said.
Authorities initially said no firefighters had been injured and the 50 workers at the facility were able to escape unharmed. Later, authorities said one firefighter sustained a non-life-threatening back injury and was being transported to medical care "in good condition."
The 14,000-square-foot recycling facility is loaded with baled paper goods, according to the fire department.
Earlier, when firefighters were responding to the blaze just before 1:40 p.m., another alert from the fire department described "heavy flames outside and throughout"  the massive structure.
About two hours after the fire was reported, just after 3 p.m., a fire alert said "a light on-shore breeze" was bringing an odor of smoke from the fire to a nearby Boyle Heights neighborhood.
Authorities are still assessing damage to the building and possible damage to adjacent structures.