This is an archived article and the information in the article may be outdated. Please look at the time stamp on the story to see when it was last updated.
A replica of the Montgomery, Ala., bus that Rosa Parks was riding in when she was arrested in 1955 for refusing to give up her seat to a white passenger will be featured in the 31st annual Kingdom Day Parade on Monday, one of numerous local celebrations planned to mark Martin Luther King Jr. Day.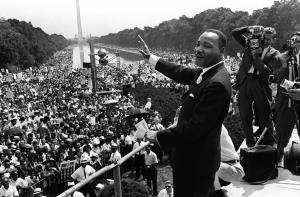 Los Angeles Councilman Curren D. Price Jr. will serve as grand marshal of this year's parade, themed "Our Work Is Not Yet Done."
The parade, honoring the slain civil rights leader, is scheduled to begin at 10:15 a.m. at Martin Luther King Jr. Boulevard and Western Avenue, before heading west to Crenshaw Boulevard and concluding at Vernon Avenue.
Marching bands, drill teams, floats and a contingent of local officials, state legislators and law enforcement representatives will be part of the celebration, said Adrian Dove, parade president and CEO.
Click here to read the full story on LATimes.com.