This is an archived article and the information in the article may be outdated. Please look at the time stamp on the story to see when it was last updated.
A dog named "Tiger" who was recently rescued and fitted with a wheelchair by a Santa Monica organization is looking for a new home.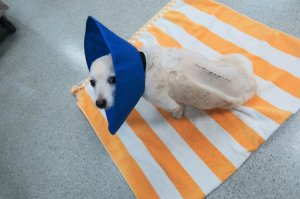 The Fuzzy Pet Foundation gave Tiger, a 7-year-old male corgi-Chihuahua mix, a customized wheelchair this week.
The group said the dog's original owners abandoned him at a local veterinarian's office when they learned that he may not walk again after receiving surgery for a slipped disc. The veterinarian then contacted The Fuzzy Pet Foundation for help.
Besides paralysis in his hind legs and mild incontinence, Tiger has a "clean bill of health" and is ready for a new home, according to the foundation.
"It may take us a while to find a forever home for a special-needs dog like Tiger," Sheila Choi, The Fuzzy Pet Foundation's founder and CEO, said in a statement. "He may or may not ever walk again, but he appears so comfortable and happy in his new wheelchair. We aren't giving up on him."
The group has set up a GoFundMe campaign to raise money for Tiger's rehabilitation.