This is an archived article and the information in the article may be outdated. Please look at the time stamp on the story to see when it was last updated.
Aided by robotic leg braces, a Marine paralyzed from the chest down by a sniper in Afghanistan walked across a parade ground Friday at Camp Pendleton to receive a Bronze Star for bravery.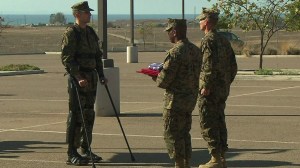 Capt. Derek Herrera had vowed to leave the Marine Corps the same way he entered it: on his own feet. Herrera, 30, a Naval Academy graduate, is set to retire next week. He is studying for an MBA at UCLA and plans to become involved in helping veterans.
"Your drive and determination are great and you will continue to do great things," Lt. Col. John Lynch told Herrera. Some 300 Marines and other guests watched in respectful silence as Herrera, his wife Maura, and his service dog Shaggy arrived at the ceremony. The only sound was the soft whirring of the robotic system's motors.
Herrera is the first person in the country to purchase a ReWalk system, according to the manufacturer, ReWalk Robotics Ltd.
Click here to read the full story on LATimes.com.