This is an archived article and the information in the article may be outdated. Please look at the time stamp on the story to see when it was last updated.
Paramedics responding to a traffic collision involving a bike and a car in Torrance on Monday night were in for a strange surprise when they gathered up the belongings of a bicyclist injured in the crash.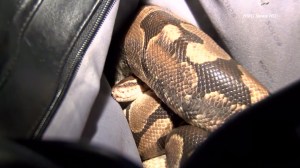 While opening up the bicyclist's large shoulder bag, first responders discovered that there was a 3-foot-long snake — possibly a ball python — curled up inside, according to Sgt. Jeremy Duncan with the Los Angeles Police Department's South Traffic Division.
The snake, which Duncan described as being "well behaved," was kept inside the bag until L.A. County Animal Care and Control officers arrived and took it away.
The collision occurred in the area of 226th Street and Western Avenue (map) shortly before 9 p.m., Duncan said.
The unidentified bicyclist was taken to Harbor-UCLA Medical Center and has been hospitalized with broken ribs and a broken collarbone.
An investigation into the cause of the crash was underway.
KTLA's Justin Burton contributed to this report.