This is an archived article and the information in the article may be outdated. Please look at the time stamp on the story to see when it was last updated.
A 32-year-old man was shot in the butt during a violent struggle with deputies who responded after he allegedly lit fire to his Paramount home and tried to prevent firefighters from entering the residence, the Los Angeles County Sheriff's Department said Friday.
Six deputies were hospitalized for smoke inhalation, and one of them for a bite wound, during the strange incident, which began about 3 p.m. Thursday at a home in the 6500 block of San Luis Street.
The Sheriff's Department on Friday released new information about the confrontation, providing much more detail than what had been offered Thursday, when authorities said no shots were fired.
Hospital staff didn't know the suspect — Rodolfo Martinez, 32 — had sustained a gunshot wound until much later Thursday night, after he had been sedated.
Martinez was arrested on suspicion of assault on a peace officer and firefighter, arson, and attempting to disarm a peace officer. He was being held on $350,000 bail.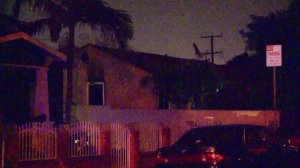 The incident began when authorities initially were called to Martinez's home for a disturbance and structure fire. After lighting four fires inside the house, Martinez threatened responding firefighters, spraying a fire extinguisher at them and then throwing it at them, a sheriff's news release said.
Firefighters told responding deputies that Martinez had assaulted several of them when they tried to get him away from the flames, and that he refused to leave the burning home. Martinez then allegedly attacked deputies with his father's metal walker, prompting a struggle as the deputies tried to get the suspect and themselves away from the fire.
"The situation continued to escalate as the deputies went to extraordinary efforts to try and save the man's life," the release stated.
On the home's front lawn, deputies used a Taser on Martinez, who continued to fight and bit one of the deputies on the arm, the Sheriff's Department said. Martinez then allegedly grabbed a deputy's holstered firearm and "violently tried to remove it from her control."
He was eventually "apprehended" but continued acting violently and with hostility to county Fire Department personnel, resisting medical aid, the release stated. At the hospital, he was allegedly violent toward staff as well.
Once he was sedated and treated, medical staff found a single gunshot wound to his buttocks area. Homicide detectives believe that an unintentional discharge of a deputy's weapon occurred during the struggle with Martinez.
"This was a dynamic and rapidly evolving incident and the extensive investigation is continuing," the release stated.
Authorities said Thursday that fireworks had gone off at the house, but the Sheriff's Department made no mention of that in its statement on Friday.
Neighbors said Martinez lives at the home with his father.
Detectives are interviewing deputies, firefighters and other witnesses, and reviewing video recordings.
Anyone with information about the incident is asked to call the Homicide Bureau at 323-890-5500.