This is an archived article and the information in the article may be outdated. Please look at the time stamp on the story to see when it was last updated.
The man who was killed following a lengthy police standoff during which he held a teacher hostage at his daughter's elementary school in Riverside was identified early Wednesday morning.
The incident began unfolding at Castleview Elementary School around 11:15 a.m. Tuesday and lasted at least six hours as officials attempted to negotiate with the man, the Riverside Police Department said in a press release.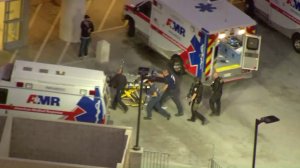 That man has been identified as Riverside resident Luvelle Kennon, 27. He died in the hospital after being shot by police.
Kennon had a daughter in the first grade who he was coming to pick up when the violence unfolded, according to Justin Grayson, a public information officer for the Riverside Unified School District.
He apparently flouted visitor protocol and forced himself onto the campus, then became upset and barricaded himself inside the classroom.
Kennon's behavior before he showed up at the school had already been raising concern among family members Tuesday morning. Upon his arrival school officials had been warned they may want to call law enforcement, Grayson said.
"There's just not much you can do when someone overpowers their way through the office staff," he added.
Kennon made his way to his daughter's classroom, where he thought she would be; however, the students were out at lunch.
It's still not clear exactly why Kennon next chose to escalate the matter into a hostage situation. Grayson said he had not been a problem parent in the past.
The incident prompted a hefty law enforcement response including a SWAT team, bomb squad and crisis negotiators.
Kennon was shot when police "entered the classroom to rescue the teacher," a Riverside Police Department news release stated. It's not clear exactly what prompted the gunfire.
Police did not say Wednesday that Kennon was armed.
Detectives are looking into a bag Kennon apparently had with him when he arrived at the school.
The teacher involved, 70-year-old Linda Montgomery, was safe after the incident but "traumatized," police said.
Castleview lists her as a first-grade teacher on its website. Her daughter and granddaughter told reporters she has taught at the school for decades.
A substitute teacher was also injured when he tried to prevent Kennon from dragging Montgomery into the classroom, said Officer Ryan Railsback, a spokesman for the Riverside Police Department.
Students were evacuated to nearby Castleview Park on Tuesday. School has been canceled for the rest of the week.
Faculty and staff were allowed to return to the campus before noon Wednesday to retrieve their personal belongings and vehicles that had been left during the evacuation.