This is an archived article and the information in the article may be outdated. Please look at the time stamp on the story to see when it was last updated.
The body of a woman was found Wednesday in the trunk of a car belonging to a family of six from Montebello who vanished under "suspicious circumstances."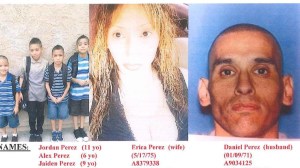 The entire Perez family — the father, 43-year-old Daniel Perez, the mother, 39-year-old Erica Perez, and their four children — 11-year-old Jordan, 9-year-old Jaiden, 8-year-old Tristan and 6-year-old Alex — haven't been seen since Friday, according to a news release from the Montebello Police Department.
Wednesday evening, police cordoned off a neighborhood near Fourth Street and Harding Avenue, located less than a mile from the family's home.
A witness at the scene told KTLA that he called police when he spotted a car with the same license plate that he had seen on news reports about the missing family.
The family's vehicle was described as a black four-door Honda Accord with a California license plate number of 7FKV020.
Investigators located the vehicle at Second Street and Harding Avenue, according to a new release from police.
Officers opened the trunk around 5 p.m. and found the body of a woman.
Police had not identified the body, except to say that it was that of an adult woman. The manner of death would be determined by the coroner's office, according to Capt. Luis Lopez of the Montebello Police Department.
The whereabouts of Daniel Perez and the couple's four children were still unknown.
Investigators now believe the father and sons were traveling in a black 2014 Toyota Camry with CA license plate number of 7FDS891, according to Lopez.
That vehicle was being entered into the system as an Amber Alert, Lopez said.
"At this point, Mr. Perez is considered a person of interest, so if he's seen or the children are seen we urged everybody to call the police department," said Lopez.
The children's aunt, Pamela Valdez, made an emotional plea to Daniel Perez.
"Please Danny, bring the kids back, drop them off at a fire station somewhere," she said. "Don't hurt them … please, they're innocent … don't do this."
Both parents have not been picking up their phones, nor have they responded to messages, police said. Daniel Perez also hasn't shown up to work the past two days.
Relatives told authorities that the parents' marriage was unstable, and the family had "a history of domestic violence," the release stated.
Anyone who has seen the Perez family or has information on their whereabouts was urged to call Montebello police Detective Antista at 323 887-1200, ext. 249, or 323 887-1313.
More Video: