This is an archived article and the information in the article may be outdated. Please look at the time stamp on the story to see when it was last updated.
Officials and volunteers searched a Corona landfill for hours in connection with the disappearance of a 6-month-old Culver City boy reported missing last month, but the recovery effort ended Monday with no remains found.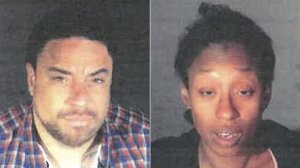 Culver City police announced they have reason to believe that Adam Manson and Kiana Williams hold responsibility in the disappearance and death of their son, Jacsun Manson. They think the parents discarded the boy's body in a dumpster near the Baldwin Hills Crenshaw Mall, and that the remains ended up at the El Sobrante Landfill in Riverside County. Police said arrest warrants for murder have been issued for Manson and Williams, who were taken into custody earlier in January in connection with car burglaries in the South L.A. area. The child was not with them at the time of the arrests.
Culver City police
said the baby was last seen with his parents on Dec. 31 but was not reported missing until Jan. 25. A witness reported seeing the baby that New Year's Eve inside a blue 2006 Chrysler PT Cruiser in South L.A.'s Hyde Park neighborhood, with the child's parents apparently trying to break into cars nearby. Detectives believe the Chrysler was stolen. Investigators said they found the vehicle on Feb. 8, but they did not specify where. The family had been staying at the Culver City shelter Upward Bound House, Lt. Troy Dunlap previously said. Adam's sister Aegina Manson said she was estranged from her brother "because of his lifestyle," but in recent communication she had with him he had spoken of his son as if he were dead. "I've known it, I could feel it for a while," Aegina said. "I told my mother around Christmas something is extremely wrong; this is on another level but I could feel that something was awry."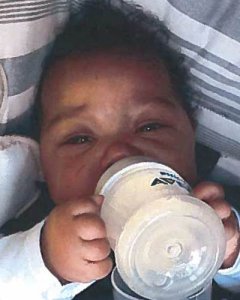 Aegina said her brother at times lived on the street and struggled with drug use, and she was upset when he told the family he was set to become a father. After Jacsun was born, Adam had asked his relatives to assume custody of the child. Aegina deliberated with her mother and decided to take care of Jacsun, but her calls to Adam went unanswered, she said. Aegina said she spoke with her brother earlier this month and asked about his son's whereabouts, and that he insisted the baby was with Williams' relatives. "If this is the outcome then this is just absolutely horrible, because it didn't have to happen," Aegina said of the news that authorities believe the infant is dead. Aegina said she feels law enforcement and child services officials could have and should have taken action sooner, and she questioned why an Amber Alert was never issued once Jacsun couldn't be found. "I don't understand how the state at no point assumed any responsibility…for allowing people that are drug addicts to have a child," she said. On Monday, the lieutenant said Culver City police personnel and volunteers have been going through the El Sobrante Landfill since 6 a.m. Around 3:30 p.m., Dunlap told KTLA that the search had concluded for the day. The search was expected to resume with  investigators back at the landfill on Tuesday.
KTLA's Alberto Mendez, Matt Phillips and Erika Martin contributed to this report.