This is an archived article and the information in the article may be outdated. Please look at the time stamp on the story to see when it was last updated.
The parents of an 11-year-old boy with autism so severe he cannot speak were arrested after police allegedly found him living in a dog kennel inside a home in Anaheim, authorities said Wednesday.
Officers were called to a residence in the 1300 block of Garrett Street (map) at about 6:15 p.m. Tuesday to help Child Protective Services investigators who had received a tip that a young boy was living inside a cage, according to Lt. Bob Dunn with the Anaheim Police Department.
After talking with the parents, officers went inside the home and discovered a fairly large cage, described as a "large dog kennel" containing a mattress, the Police Department stated in a news release.
It appeared the parents had been keeping their son inside it, possibly because the boy was prone to violent outbursts, Dunn said. He emphasized the investigation was in its preliminary stages.
"Perhaps, as a part of his autism, he would have outbursts on occasion. As he's grown older, the parents had difficulty adapting to these outburst and controlling them," Dunn said.
"Putting him in that cage may have been a way for them to try to, in their way, control what was going on," he said.
The boy appeared clean and to have been well cared for otherwise, and did not have any visible injuries, according to Dunn.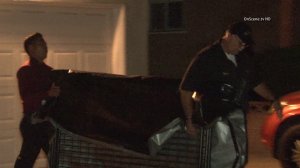 The parents — identified as Tracy Trang Le, 35, and Loi Vu, 40 — have been arrested and booked on suspicion of felony child endangerment and false imprisonment, Dunn said.
A neighbor said the family seemed normal and caring, and that the boy appeared in good health.
"He appeared to look fine. He didn't look to be abused or anything," neighbor Bob Emerson said. "That's why the whole idea of the cage is hard for me to understand — why he would need to be in a cage?"
It was not immediately clear how long the boy had allegedly been kept in the cage, which Dunn described as approximately 4 1/2 feet long and 6 feet tall.
The child's autism is so severe that he is "unable to communicate at all," Dunn said. Police planned to consult doctors to see if there was a way the boy could share his experience.
The boy was taken into protective custody, as were both of his siblings, according to Dunn.
"In this particular case, placing your child in a cage to try and control some behavior may not have been the best course of action… and out of this may come soon good," he said. "Maybe this family will get some of the assistance that they need."
As an investigation into the incident continued, police said they would be interviewing other people who lived in the home, including family members and another family who rented a room out of the house.
Child Protective Services was also investigating the boy's living conditions.
The parents speak Vietnamese and limited English, Dunn said; a translator assisted in the police investigation.
Another family rents a home at the house; they were out of town during the arrests, Dunn said.
KTLA's Justin Burton, Chip Yost and Melissa Pamer contributed to this report.