This is an archived article and the information in the article may be outdated. Please look at the time stamp on the story to see when it was last updated.
The parents of a 4-year-old Palmdale boy who died under suspicious circumstances in July have been arrested, authorities said Thursday.
Noah Cuatro's parents initially told law enforcement the boy drowned at a Palmdale community pool on July 5, but authorities later said signs of trauma inconsistent with drowning were found on his body. Some of the injuries were consistent with possible abuse.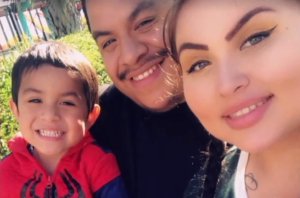 He was pronounced dead the following morning at Children's Hospital Los Angeles.
Jose Cuatro and Ursula Juarez were arrested around 8 a.m. Thursday on suspicion of killing their son, according to the Los Angeles County Sheriff's Department. A search warrant was also served at their home to recover any possible evidence.
Noah's death was ruled a homicide by the Los Angeles County Department of Medical Examiner-Coroner on Tuesday. Homicide detectives first responded to the case in the days after he died.
The boy's great-grandmother, Eva Hernandez, broke down as she spoke before reporters during a news conference Thursday afternoon.
"I wish he was here," she said through tears, struggling to speak. "He was so loving. He was so sweet. He was such a smart little boy."
According to Hernandez, Noah was taken from his mother at birth and placed in and out of foster care until Hernandez took custody of him when he was 3 months old.
When Noah was 9 months old, his birth parents regained custody but he was removed from their care again about a year later. He went back into foster care until Hernandez took custody of him for more than two years, she said.
In November 2018, for a last time, the boy was placed back into the care of his parents. He died on July 6.
On Aug. 30, the Los Angeles County Office of Child Protection released a report that found social workers acted appropriately in leaving Noah at his parents' home, according to the Los Angeles Times.
But Hernandez's attorney, Brian Claypool, said the county's Department of Children and Family Services "deliberately disregarded" Noah's welfare by sending him back to his parents.
He said the 4-year-old often begged not to be taken from Hernandez.
"He would cry, grab onto her arm, onto her leg because he did not want to leave her," Claypool said.
Days after Noah's death, Hernandez told KTLA the boy was removed from his parents' custody the last time due to neglect and malnutrition. She also recalled how the boy begged not be sent back.
"I told the social workers, 'Please, he doesn't want to leave. He wants to stay here. He begged me,'" Hernandez said at the time. "He would hold on to me and say, 'Don't send me back, grandma.'"
DCFS told the Times in late July, weeks after Noah's death, that the agency changed its policy on so-called removal orders. Social workers are now required to report when a court order hasn't been executed to the agency's director, rather than just notifying a supervisor.