This is an archived article and the information in the article may be outdated. Please look at the time stamp on the story to see when it was last updated.
A man suspected of molesting a young girl at a park in Menifee was taken into custody by police after being chased down by several parents, Riverside County authorities said Wednesday.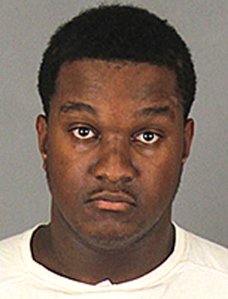 Menifee Police Department officers were dispatched to La Ladera Park, located at 29629 La Ladera Road, about 6:30 p.m. Tuesday after park patrons reported that a man had tried to sexually assault a child, according to a news release on the Riverside County Sheriff's Department's website.
Officers learned while responding to the call that "a sexual assault did, in fact, occur," officials said in the release.
Several parents who witnessed the incident ran after the suspect, identified as 21-year-old Roland George Riddell, and detained him at the scene until officers arrived, according to police.
He was taken into custody and interviewed at another location.
Based on the interview and statements from witnesses, Riddell was booked on suspicion of annoying and molesting a child, which is a misdemeanor, according to the release.
The following day, he also faced an additional felony child molestation charge after investigators interviewed Riddell again, this time while he was in jail, police said.
Authorities cited that interview, as well as the girl's age, as the reason for the additional charge he faced.
The incident remains under investigation, and anyone with information is asked to call Menifee Officer Josh Cail at 951- 210-1000, or email PerrisStation@RiversideSheriff.org.