This is an archived article and the information in the article may be outdated. Please look at the time stamp on the story to see when it was last updated.
The parents of an 8-year-old San Clemente boy killed in Ensenada over the weekend while watching the annual Baja 500 off-road race spoke out Thursday about the tragic crash.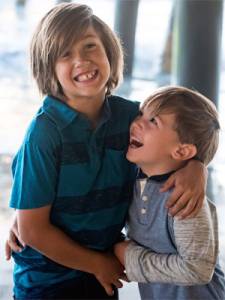 Xander Hendriks was one of three spectators struck Saturday by a truck driven by one of the race competitors.
The boy's grandmother wrote a heartbreaking account of the crash.
Brandon and Melissa Hendriks said they were visiting friends who were doing missionary work in Ensenada when they decided to take their three sons to see the race before going to the beach.
The couple said they felt uncomfortable where they were standing along the race route so an official directed them to a safer location.
They were headed to that location when driver Todd Pedersen of Orem, Utah, lost control of his truck and plowed headlong into Melissa and Xander.
"I remember looking at him and saying, 'It's coming right at us,'" Melissa Hendriks said. "We all ran as fast as we could. But we couldn't run fast enough."
Xander died of his injuries, while his mother suffered head trauma and a massive leg injury.
Pedersen came to the hospital after the race and met with Xander's father.
Brandon Hendriks said he told Pedersen that he forgave him and that he knew it was an accident.
A GoFundMe page for the Hendriks family asked friends to share memories of Xander and to pray for his mother, Melissa Hendriks.
"When I think about Xander, I think of the word Joy!!" one mother wrote. "He always had a big smile on his face and made my kids feel special and loved. So much so, that on more than one occasion my Ella has said that she was going to marry Xander."
The page has raised over $114,000 toward medical and funeral expenses by late Thursday afternoon.