This is an archived article and the information in the article may be outdated. Please look at the time stamp on the story to see when it was last updated.
A Fairfield couple whose son was found safe hours after being kidnapped earlier this week alleged on Tuesday that they were mistreated by police and are planning to file a complaint, according to KTLA sister station KTXL.
Brock Guzman, 8, was asleep inside the family's car when it was stolen from their driveway early Monday. An Amber Alert was subsequently issued and canceled more than three hours later when a community member located the vehicle several blocks away with Brock inside.
While the family was relieved to have the little boy back, his parents have questioned how they were treated by police in the time their child was missing, according to the Sacramento-area television station.
Paul Guzman said police mistreated his wife, Suzanne Guzman, after she initially refused to allow officers inside the home over fears one of their dogs would bite.
"One will bite if I'm not present when people are in there," Paul Guzman explained to KTXL. "So she asked them not to enter the house, she didn't give them permission to go in the house until I got back because I was out looking for my son."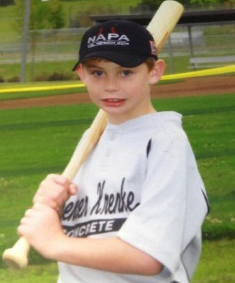 He said when he returned, an officer was next door "antagonizing" the dogs.
"So when my wife walked over there and asked him not to antagonize the dogs, and that her husband was here, and put her hand on the screen door to make sure the screen door was secure because the dogs will jump up on it and it will open, they manhandled her," Guzman told the station.
Newly released cellphone and police body camera video showed the frantic mother as she apparently would not to let them inside the home. At one point, the video appeared to show the woman being pushed to the ground and placed in handcuffs.
"No, I am not resisting," she screamed. "What am I doing? What am I doing."
"Stop resisting," an officer could be heard telling her. "Stop resisting, please."
She then yelled at them multiple times that she couldn't breathe.
"Baby, just relax, calm down," her husband could be heard saying.
"I can't," she responded frantically," My f—ing baby is gone."
Police said they had wanted to go into the home to make sure Brock wasn't inside hiding.
When Suzanne Guzman refused to allow them to enter the home even after officers observed a "reddish substance smeared in the carpet" that possibly looked like blood, she was detained in handcuffs, a news release from the Fairfield Police Department said.
Paul Guzman was later detained as well after police claimed he also interfered with officers, the release stated.
"It was the actions of the family during this investigation that caused us concern and ultimately led to their arrest," police said in the news release. "Both Suzanne and Paul Guzman were later released without any charges being filed."
The Guzmans told KTXL that they have already met with an attorney and are planning to file a complaint against the Fairfield Police Department and the city.
No arrests have been made in Brock's kidnapping, which police said remained under investigation.
Warning: Videos contain graphic language.