This is an archived article and the information in the article may be outdated. Please look at the time stamp on the story to see when it was last updated.
The parents of a Ventura County toddler who was last seen in 2015 were charged with murder Thursday after investigators found reason to believe they were responsible for her death, officials said.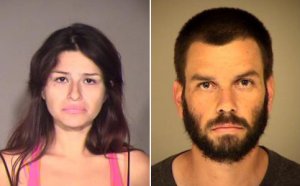 The 3-year-old girl, Kimberly Lopez, has been the subject of a lengthy police investigation that opened in September 2016 after officials from Ventura County Children and Family Services had been trying to locate her for more than a year, the Oxnard Police Department said.
The young girl and her parents — Mayra Alejandra Chavez, 26, and Omar Misael Lopez, 33 — were all residents of Oxnard. It was unclear whether they lived in the same household.
Kimberly was last seen by social workers on March 10, 2015, in the custody of Lopez, who was given guardianship of the child after completing the required classes, according to police.
Chavez was only allowed visits with the supervision of the child's father and grandmother Maria Lopez, Chavez's mother, officials said.
Both parents were arrested on suspicion of murder on Valentine's Day, Wednesday, but had already been in custody on civil arrest warrants for failing to provide accurate information on their child's whereabouts, police said. Inmate records show both were detained on Oct. 7, 2016.
The pair have since been charged with murder and child endangerment resulting in death, officials with the Ventura County District Attorney's Office confirmed. Chavez is facing an additional charge of torture related to suspected child abuse that occurred in 2013, said Senior Deputy District Attorney John Barrick.
Lopez was arraigned Thursday while Chavez was expected to be arraigned Friday.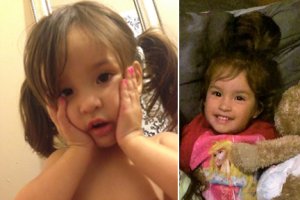 Child services officials began to worry about Kimberly's well-being in July 2016, more than a year after she was last seen, when they were approached with "concerning" information, according to the Oxnard police statement.
At that point social workers tried to check on the 3-year-old multiple times, but both Lopez and Chavez allegedly told them she was living with family in Mexico. After several visits during which the parents were unable to provide documentation that proved their daughter's whereabouts, Ventura County Children and Family Services reported Kimberly missing to the Oxnard police on Sept. 7, 2016.
Oxnard police, Ventura County sheriff's and district attorney's officials and the FBI were all involved in the ensuing investigation and attempts to locate the 3-year-old. After interviewing several people connected to the case, including concerned family members and friends of Lopez and Chavez, detectives were led to believe the child's parents were "the key" to finding her, police said.
Officials told the Ventura County Star they believe Kimberly was killed on June 22, 2015, just after she would have turned 3.
Investigators believe the girl was "placed in a situation that resulted in her death" while in her parents' care, and they say they have sufficient evidence to show Lopez and Chavez were responsible.
If convicted as charged, Chavez could face up to 47 years to life in prison, while Lopez could face a maximum sentence of 42 years to life, officials said.
Chavez was being held on $6.01 million bond at Todd Road Jail in Santa Paula, while Lopez was being held in the Ventura County Jail with bail set at $6 million, inmate records show.