This is an archived article and the information in the article may be outdated. Please look at the time stamp on the story to see when it was last updated.
PALMDALE, Calif. (KTLA) — An 8-year-old boy was in critical condition on Friday after what deputies were calling an extreme case of child abuse.
Authorities received a call about a child needing help at an apartment in Palmdale around 11 p.m. on Wednesday.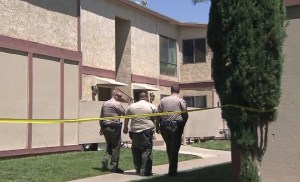 The boy was found unconscious, with markings around his ankles suggesting he may have been tied up, police said.
He was also found to have cigarette burns on his body, a skull fracture and several broken ribs.
The boy was transported to an area hospital and then airlifted to Children's Hospital Los Angeles.
The boy's mother, Pearl Fernandez, 29, and her boyfriend Isauro Aguierre, 32, were arrested, said Capt. Don Ford, of the Los Angeles County Sheriff's Department.
During an interview, Aguirre admitted causing the injuries to the child, detectives said.
The child's mother admitted to being present during the assault and did not intervene on behalf of the boy.
Aguierre was booked on suspicion of attempted murder and was being held on $1 million bail.
Fernandez was booked child abuse, and her bail was set at $100,000.
Two other siblings, ages 10 and 12, were found in the apartment, detective said. They did not appear to be injured and were taken into protective custody.