This is an archived article and the information in the article may be outdated. Please look at the time stamp on the story to see when it was last updated.
A Palos Verdes High School student charged with murder in an alleged gang shooting will no longer attend classes on campus, instead attending an off-site study program, after parents at the school on Monday protested his attendance.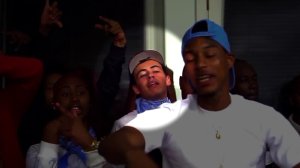 Cameron Terrell, 18, was arrested with two juveniles in an Oct. 1 shooting in the Manchester Square neighborhood of South Los Angeles that left 21-year-old Justin Holmes dead.
School officials and Terrell's family reached an agreement to have him study off-campus after several parents complained about him continuing to attend classes while out on bail with a murder charge, the school district superintendent told KTLA.
The shooting victim, Holmes, was walking with two friends shortly before noon on a Saturday when they were confronted by two armed suspects who asked where they were from. One of the armed suspects fired multiple shots, killing Holmes, according to Los Angeles police.
The suspects then fled in a vehicle driven by Terrell, police say.
Although investigators do not believe Terrell fired the fatal shot, he has been charged with murder for his role in the crime.
The criminal complaint, filed Oct. 16, states that Terrell went by "White Boy." He was also charged with two counts of attempted murder of victims identified only as "B.G." and "L.G." Prosecutors asked that Terrell's bail be set at more than $5 million.
Gang allegations were filed against all three defendants; the two juveniles have not been identified but their cases are in the process of being transferred to adult court, according to a Los Angeles Police Department news release.
The two juveniles were charged Oct. 13, according to LAPD. Inmate records indicate Terrell was arrested late Oct. 12 and released early Oct. 19.
Neither Holmes nor his friends were involved with gangs, police say.
The crime has drawn particular interest because Terrell is a white teen from a highly affluent suburban area who is suspected in what is believed to be a gang crime involving black teens.
Two Palos Verdes Peninsula Unified School District officials confirmed to KTLA that Terrell attended the high school in Palos Verdes Estates, and was in class as recently as last week.
Terrell did not show up for school Monday, but several parents who want him to stop attending classes on campus did.
Former Manhattan Beach police Chief Rod Uyeda, who has a child attending the school, said he does not feel an adult charged with murder should be allowed in the school's population of 3,000 students.
"I do believe, and I'd like to talk to the principal, that the education code does support his suspension so that he can focus on his studies at home," Uyeda said.
Uyeda is also concerned about possible gang retaliation from the shooting putting current students in danger.
"They shoot up funerals. They shoot up schools. They shoot up people's homes. They really don't care who they hit," Uyeda said.
Other parents said school officials have told them the district's hands are tied on the matter.
Terrell lives with his family in a 3,871-square-foot home with an assessed value of $1.8 million, and was photographed at Dodger Stadium attending a World Series game with his parents just days after posting bail, the Daily Breeze reported.
He is scheduled to be arraigned Nov. 29.
KTLA's Melissa Pamer and Marissa Wenzke contributed to this article.