This is an archived article and the information in the article may be outdated. Please look at the time stamp on the story to see when it was last updated.
Parents in Santa Clarita were alerted Thursday to the attempted abduction of a young girl as she walked home from Hart High School.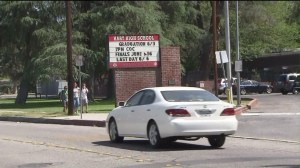 It happened around 2 p.m. near Newhall Park, according to a post on the Santa Clarita Valley Sheriff's Station's Facebook page.
A man allegedly pulled up alongside the girl and attempted to lure her into his car, according to Gail Pinsker, a spokeswoman for the William S. Hart Union High School District.
When she said no, the man drove off and the student ran back to campus and alerted school officials, investigators said.
He was described as a white man with curly hair who was driving an "old messy car," Pinsker said.
Hart and Placerita Jr. High School sent notices to parents Thursday warning them of the incident, sheriff's officials said.
Students were urged to use caution and to always walk in pairs.