This is an archived article and the information in the article may be outdated. Please look at the time stamp on the story to see when it was last updated.
Park rangers are asking hikers to be aware of an increase in tarantulas at Rancho Sierra Vista in the Santa Monica Mountains now that the spiders are in mating season.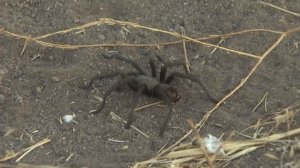 Fall is a popular time for male tarantulas to go in search of females to mate with, and rangers along the popular hiking trails have already noticed an increased in sightings.
In fact, it didn't take long for one of our cameras to spot a tarantula sitting next to a populated trail.
"It was terrifying. I don't want to be near it," said Newbury Park resident Hannah Mallam.
Although park rangers have urged hikers to give the tarantulas plenty of space, Ranger Razsa Cruz with the U.S. National Park Service said visitors don't need to worry about being attacked.
"They're the underdog. A lot of folks are intimidated by them or they have this fear toward them … They are really helpful for the environment and the ecosystems that we have around us," Cruz said.
Although tarantulas do have venom and can bite, they don't pose a serious danger to humans, the National Park Service stated on their tarantula fact sheet.
During mating season, male tarantulas leave their burrows and often travel long distances in search of a mate, and that's when people often encounter the spiders.
After finding a mate, the male spider must quickly leave the female's burrow or she may make him her next meal, according to the site.
Even the lucky males usually die within a few months of mating, the San Diego Zoo's tarantula page states.
For those wanting to get up close and personal with tarantulas, park rangers will lead a free sunset hike at 6:30 p.m. on Saturday, click here for more info.