This is an archived article and the information in the article may be outdated. Please look at the time stamp on the story to see when it was last updated.
David Hogg, the teenage survivor of the Parkland, Fla., high school shooting who was mocked by Fox News host Laura Ingraham for not being accepted to several California universities, said he has been accepted to UC Irvine.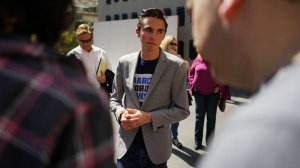 The 17-year-old Marjory Stoneman Douglas High School senior — a key voice in the student-led national gun control movement that followed the Feb. 14 shooting — told a Los Angeles Times reporter in a text message that he had been accepted to the Orange County university. He had not yet made his decision if he would attend the school, he said, because he has been so busy.
After David mentioned in an interview that he had been rejected by four University of California schools, Ingraham, host of "The Ingraham Angle," tweeted last month: "David Hogg Rejected by Four Colleges To Which He Applied and whines about it." The student activist responded by calling for sponsors to boycott Ingraham's show.
Ingraham later apologized on Twitter, writing that "Any student should be proud of a 4.2 GPA — incl. @DavidHogg111. On reflection, in the spirit of Holy Week, I apologize for any upset or hurt my tweet caused him or any of the brave victims of Parkland."
Read the full story on LATimes.com.