This is an archived article and the information in the article may be outdated. Please look at the time stamp on the story to see when it was last updated.
An innocent homeowner was mistakenly killed and a parolee was fatally shot by deputies early Saturday after an hourslong hostage situation and standoff in Pico Rivera, authorities said.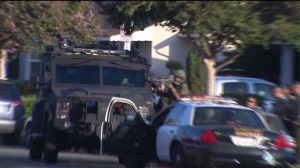 The incident began around 4:30 p.m. on Friday when deputies were searching for 24-year-old Cedric Ramirez, who was wanted on two felony warrants, a news release from the Los Angeles County Sheriff's Department said.
During the search, Ramirez ran out of a home, jumped a back fence and then broke into a home in the 9000 block of Rosehedge Drive, which was occupied by an unknown number of residents at the time, according to the release and Lt. John Corina of the Sheriff's Department.
While in the backyard of the home, Ramirez exchanged gunfire with deputies, the release stated.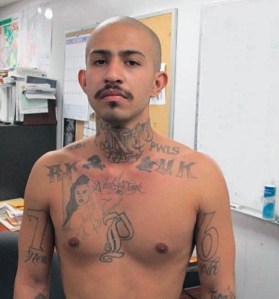 Deputies were able to open the front door and started escorting multiple people from the home. However, as they were being taken out, Ramirez allegedly shot a second time at deputies, who then returned fire and retreated to the front yard, according to Corina.
"Within seconds of their exit, an adult male suddenly appeared in the doorway," Chief Bill McSweeney, of the Sheriff's Department's Detective Division, said at a Saturday evening news conference.
"Believing the man was Ramirez, a deputy fired two shots at that man," who then dropped to the ground, unconscious, McSweeney said. He was later recognized to be 54-year-old Frank Mendoza, a resident of the home.
Preliminary evidence indicated that the two shots "likely" struck Mendoza, according to McSweeney. Deputies were able to rescue him and get him to the paramedics, but he later died of his injuries.
Family members told KTLA that Mendoza owned the home and was just three months shy of retirement.
His wife, identified by family members as 60-year-old Lorraine Mendoza, was hiding in the bathroom at the time. She was not able to get out of the home and the incident became a "barricaded suspect, hostage situation," according to Corina.
A SWAT team was called in while deputies contained the area.
Hours after the hostage situation started, the SWAT team entered the home and a deputy-involved shooting occurred, Corina said.
Ramirez was shot and pronounced dead at the scene. A weapon was recovered, according to the release.
Lorraine Mendoza was rescued and taken to a local hospital for examination, the release stated.
It did not appear Ramirez knew the victims who lived inside the home, according to Corina.
More Video: