This is an archived article and the information in the article may be outdated. Please look at the time stamp on the story to see when it was last updated.
A Pasadena teen has been charged with murder in the shooting death of his 19-year-old girlfriend, the Los Angeles County District Attorney's Office announced Wednesday.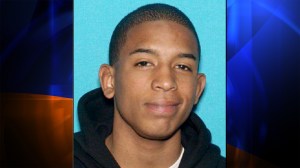 JonJon Crummie, whose mother said he had just turned 18, faces a special allegation that he used a handgun in addition to the murder charge, the DA's office announced.
Crummie is accused of killing Irais Acosta, 19, "in the bedroom they shared in his parents' home" in Pasadena, according to the DA's office.
He was scheduled to be arraigned Wednesday in Pasadena Superior Court, but officials there said the arraignment was moved to Thursday.
When Crummie was arrested Monday, his mother told KTLA he had no memory of the killing and became suicidal after realizing Acosta was dead.
"For whatever reason, he snapped," Yvonne Lomeli said.
She took him to a Los Angeles County-USC Medical Center, where he was taken into custody Monday. Crummie had never been in trouble with the law before and had borrowed a gun for protection from Pasadena gangs, Lomeli said.