This is an archived article and the information in the article may be outdated. Please look at the time stamp on the story to see when it was last updated.
Investigators arrested a suspect Tuesday afternoon in connection with a hit-and-run that claimed the life of a 27-year-old Pasadena woman over the weekend, officials said.
Officers took Francisco Javier Soto Cedillo, 24, of Pasadena into custody about 1:50 p.m. at his home in the 800 block of North Oakland Avenue, about a mile from the scene of Sunday evening's deadly hit-and-run, according to Pasadena Police Department officials and Los Angeles County booking records.
He was arrested without a struggle, Pasadena police Lt. Mark Goodman said. Investigators found the Nissan Pathfinder believed to have been involved in the hit-and-run at Cedillo's home. The SUV, which had front-end damage consistent with the collision, was seized as evidence.
Family members and Los Angeles County Department of Medical Examiner-Coroner's officials identified the victim as 27-year-old Jessica Torres.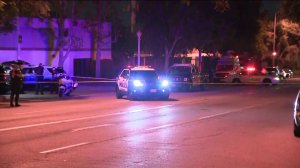 She was crossing Fair Oaks Avenue, just north of Claremont Street, when she was struck, Pasadena police Lt. Max Dahlstein said. The driver fled the scene.
Investigation over the next two days identified Cedillo as the suspected driver, police said.
Police booked him on suspicion of vehicular manslaughter and felony hit-and-run, Goodman said. He also had an outstanding arrest warrant stemming from a drunken driving case.
Cedillo's bail has been set at $85,000 pending his initial court appearance, records show.