This is an archived article and the information in the article may be outdated. Please look at the time stamp on the story to see when it was last updated.
The City of Pasadena on Wednesday released safely guidelines for this year's Rose Parade and Rose Bowl game.
Both visible and non-visible enhanced security measures will be in effect along the 5.5 -mile parade route and at the Rose Bowl Stadium.  Hundreds of law enforcement officers will be inspecting vehicles and will remove anyone violating the law or disturbing the peace.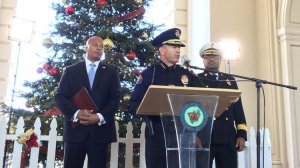 In response to the Christmas market attack in Berlin where a truck was used as a weapon, police plan to use parked patrol cars and water-filled barricades at more than 50 intersections along the parade route, the Los Angeles Times reported.
Police dogs will also be on hand. Pasadena Police Chief Phillip L. Sanchez said Wednesday that there are no known threats to the city or events, but that officials will be prepared for anything.
Officials advise visitors to allow extra time to arrive, park and enter the area.
Both events will take place on Monday and officials released the following tips:
What is allowed:
• Overnight camping for the parade is permitted only on the night of Sunday, January 1.
• Sidewalk positions may be maintained along the parade route beginning at noon, Jan. 1. Visitors and their items must remain on the curb until 11 p.m.  At that time parade spectators may move out to the blue "Honor Line" but not past it.
• Small barbecues elevated at least 1 foot off the ground are allowed on the parade route as long as they are 25 feet from buildings and other combustibles.  A fire extinguisher must be readily available at all times.
• Minors under 18 may be on the parade route from 10 p.m. to 5 a.m., but only if supervised by an adult.
• Officials advise spectators to dress for cold weather and drink plenty of fluids to avoid dehydration.
What is not allowed:
• Drones are prohibited at either event.
• Umbrellas and selfie sticks also are not allowed inside the stadium or within the secured grandstand area of the parade at TV Corner, at the intersection of Orange Grove and Colorado boulevards.
•  Appearance in the parade is prohibited for anyone who is not approved by the Pasadena Tournament of Roses.  Spectators are asked to stay off the street and do not pass the blue "Honor Line."
• Any tent, sofa or box that can be used as stools or seats are prohibited on parade route.
• Unoccupied chairs are not allowed and will be removed from the parade route.
• Bonfires are strictly prohibited and considered "illegal burns."
• All fireworks are prohibited except as part of scheduled official events by professionals.
• No items may be sold along the parade route without a city permit.
• Selling seating or viewing space along the parade route, other than grandstand seating, is illegal.
• It is illegal to buy, sell or give away horns on the parade route.
• No public areas—sidewalks, curbs, gutters, streets, ramps—may be cordoned or roped off.
• No ladders or scaffolding may be used as elevation for viewing the activities.
• Pets are not recommended along the parade route.
• Throwing any object into the parade or at passing vehicles or pedestrians the night before the parade is prohibited.  Violators will be cited and property will be seized.
• No unauthorized parking.  Vehicles blocking emergency travel lanes or parked in restricted areas will be towed at the owner's expense. Officials recommend that spectators pay attention to where they park and double-check for temporary no parking signs and other restrictions.
• No open containers of alcohol are permitted on public streets, sidewalks and all other public areas.  Violators may be cited or arrested.  No glass containers of any kind are allowed.
• Sale, possession and use of illegal drugs will not be tolerated.
• Smoking any tobacco product is prohibited along the parade route and inside stadium.
Information about the Rose Parade and Rose Bowl game is available at www.tournamentofroses.com.
Details about parking, on-site activities, tailgating and security at the Rose Bowl Stadium can be found here.
Suspicious activity can be reported to the Pasadena Police Department at 626-744-4241.